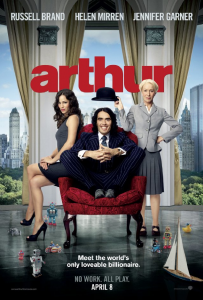 The original Arthur, released in 1981, is an absolutely wonderful film. It is a beautiful mix of comedy and story. The prospect of a billionaire who actually uses his money purely for enjoyment is something to be amazed by. And enjoying the movie so much, I had to at least evaluate the new Arthur, starring Russell Brand and Helen Mirren, which opened in the USA last week.
The core idea of Arthur remains… Arthur Bach (Dudley Moore / Russell Brand) has never had to work a day in his life. All of his wealth is pre-determined. He therefore drinks a lot and occupies himself with fun, without any reason to look presentable. Eventually, the family wants to merge fortunes with another. So Arthur is forced to partake in an arranged marriage with Susan Johnson (Jill Eikenberry / Jennifer Garner) Naturally, it is then that he happens to meet the love of his life. So he is left to wrestle with his money and love.
The similarities stop there. In the original film, Arthur's love, Linda Marolla (Liza Minnelli) is a poor woman who lives with her dad and has to resort to stealing ties for his birthday. They meet, fall in love, and the story moves on.
In the remake, a LOT has changed. Firstly, Linda is now Naomi (Greta Gerwig), her father plays a far more minor role, and the only crime Naomi has to commit is "being an unregistered tour guide". The chauffeur, Bitterman (Ted Ross / Luis Guzman) is given a much bigger role, but is delivered as "the silly weird driver". And Hobson the butler (John Gielgud – who won an Oscar for his role) has had a sex change! Helen Mirren (who won an Oscar for The Queen) plays Hobson the long-suffering nanny. Not that that affects anything. Personally, I think Helen handled the character quite well.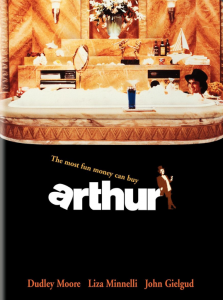 I think the main issue between the two movies is that the original focused on purely his love story, whereas the remake focused on other things, such as Arthur's alcoholism and his inability to work. That is too much to focus on in one film. Those plots were dealt with in the sequel to the original movie, Arthur 2: On the Rocks, but even that movie was poorly acclaimed.
The original Arthur was pretty okay for kids. It's worst part was probably when he hired a prostitute, but even then, the joke is that he takes her out to dinner (lol), and it goes right over young children's heads. The remake is much more testy, with raunchy humor galore.
Age Recommendation: The original is pretty okay for younger kids, but the remake has a little less of that innocence so is more suitable for slightly older kids.
Final Verdict: The original Arthur, with Dudley Moore, was a hilarious movie with a good plot. 10/10.  The remake, with Russell Brand… was just a remake. An attempt to recapture a work of art. 6/10.