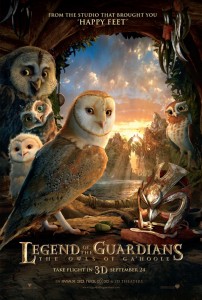 Because the film is based on a series of books that I read, I expected Legend of the Guardians: The Owls of Ga'hoole to be rubbish. After all, ever since I saw Nickelodeon Pictures' movie Maniac Magee I have dreaded book remakes. (That film was… inadequate.) But was it as bad in this case? Now I'm not as sure of that. The picture was based on the series Guardians of Ga'hoole by Kathryn Lasky. You heard me right. They completely changed the name. Weird.
The story, as one could guess, was not perfectly accurate. Soren, a barn owl, and his brother, Kludd are kidnapped and taken to "The Pure Ones", aka St. Aggie's – an orphanage where young owls are brainwashed into becoming soldiers. Soren escapes, along with an elf owl named Gylfie, but Kludd stays and becomes a warrior.
Along with a burrowing owl, Digger and great grey owl Twilight, they search for the Kingdom of Ga'hoole to assist the wise owls in their fight against the army of St. Aggie's.
The book was a little different. But I kind of understand its adaptation, because the original story was much darker. For instance, Kludd pushed Soren off the tree, he was never kidnapped. Many characters died, and many deaths were gruesome, in other words, slashed throats, lots of blood, and so on. "The Pure Ones" and St. Aggies are two different things, and actually battled at one point. Either way, a bloody mess is not the best way to show a children's movie, and what teenager would want to see this?
The 3D animation was, actually, quite beautiful, with every feather animated separately. However, I didn't find many long, heartfelt sequences such as those made by Pixar or Dreamworks. And when they did want a long, beautiful scene, they relied on a slow motion shot every 20 minutes. And those were really just the really dramatic and battle scenes. Nor was the writing all that great either.
Age Recommendation: It's a kids film. 6+.
Final Verdict: The animation was great, the writing, not so much. 6.5/10
Legend of the Guardians: The Owls of Ga'hoole was directed by Zack Snyder (who also directed 300 and Watchmen) and features the voices of Jim Sturgess (Soren), Ryan Kwanten (Kludd), Emily Barclay (Gylfie), David Wenham (Digger), Anthony LaPaglia (Twilight) and Helen Mirren (Nyra).
The movie opens today, September 24th. The soundtrack, featuring the new song "To the Sky" by Owl City, is available for download from iTunes.