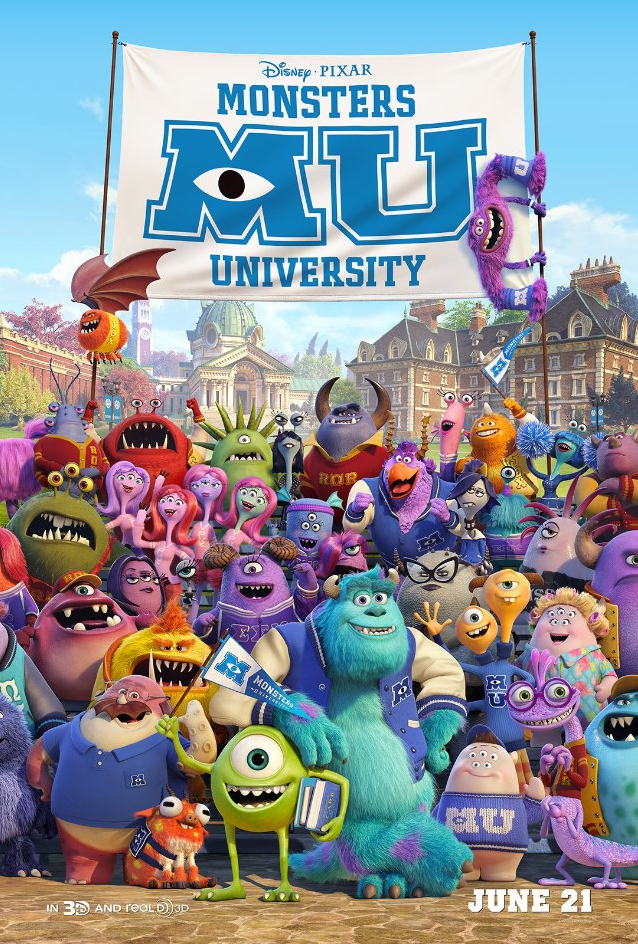 Okay, perhaps I'm a little biased for this one. I'm a huge fan of Pixar. I love their enthusiasm for storytelling and their unique ability to do it right. I've read books and watched documentaries on them, and I can name all fourteen of their feature films in order.
But with this fondness for them one can also expect the drawback of severe judgement. Pixar kept a perfect record in my book for a long time, and it wasn't until the last couple of movies that this ideal slipped my view. Cars 2, Brave… Neither of them truly felt like they had the "Pixar Touch", as it were. I don't think that they are fit to hold up Pixar's reputation. Cars 2 was really just a merchandising grab, and Brave felt a little too uncomplicated — like it was just a cookie cutter plot under the deceiving layer of a unique idea.
Having said that, I was pretty afraid for Pixar's newest work, Monsters University, which is yet another sequel. (It seems like the studio suddenly decided to go down that road; it's a scary idea, considering Pixar's record for originality.)  And then I heard that Finding Dory, a Finding Nemo sequel, is set to be released in 2015. So I almost lost faith in Pixar for good.
However, after watching Monsters University, I am happy to declare it as a pleasant surprise.
Taking place years before the events of Monsters Inc., it follows Mike (Billy Crystal) and Sulley (John Goodman) as they enter college together in the "scare program". They eventually become rivals, each fighting to top the other, until their competition backfires dramatically and they have to work together in order to save their academic careers. Also involved are a fraternity in desperate need of inspiring and a series of athletic competitions, as per your usual camp movie standards. (Animal House, The Internship)
However, while not necessarily as heartwarming as some of its predecessors, this story manages to hold its own with a solid conflict and genuine funniness. The comic duo of Crystal and Goodman feels just as alive as it did twelve years ago.
The animation is of a high quality (as expected), with a loose, cartoonish feel. It really supplements the plot as a less serious, more entertaining venture. As with Monsters Inc, the characters are all originally designed with honest and lively natures.
Age Recommendation: It's a kids movie, and it isn't scary at all. No limit.
Final Verdict: I wouldn't call it better than most of Pixar's other work, but I would say that it fits in nicely with the collection, and that's good enough for me. 8/10