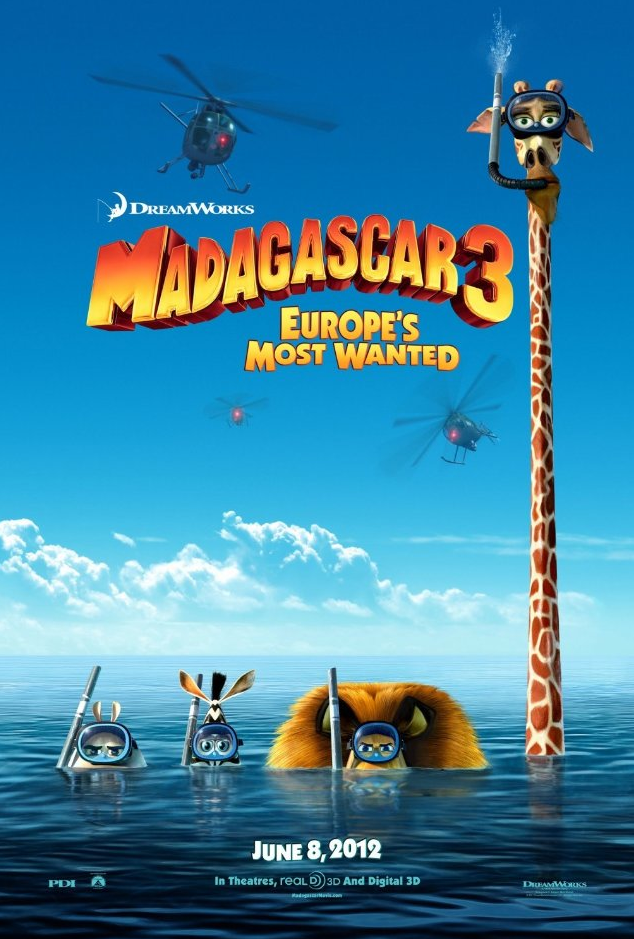 Dreamworks Animation's second big franchise Madagascar is continuing on its merry way. The most recent film in the series – Madagascar 3: Europe's Most Wanted – was released last month, after two predecessors and a very successful television spin-off. Things seem to be going great for our batch of castaway characters.
But then again, it all sounds rather familiar, doesn't it? Anyone who's read my review for Puss in Boots knows that I feel that the overall quality of the films in the Shrek series began slipping with the third film. The depth of the story started leaving and it began taking a more greedy, "please the child" sort of position.
Therefore, I was interested to see whether the Dreamworks team would manage to improve the franchise based on critiques of previous features. At first I feared that there would again be a further drop in quality, but for once, I wasn't entirely correct.
Picking up where we left off, Madagascar 3: Europe's Most Wanted tells of the lost travelers Alex the Lion (Ben Stiller), Marty the Zebra (Chris Rock), Melman the Giraffe (David Schwimmer) and Gloria the Hippo (Jada Pinkett Smith), along with the elusive self-proclaimed lemur 'King' Julian (Sacha Baron Cohen) and his entourage as they continue on their journey back to New York's Central Park Zoo.
In search of a method of travel, they stowaway on a circus train, meeting new animals and exploring new environments all over Europe. Rich, 3D adaptations of cities such as Paris, Rome and Monte Carlo set the scene impressively.
The primary antagonist is a quirky Animal Control Worker – Captain Chantel DuBois (Frances McDormand) – who seems to be the absolute corniest thing about this film. She fills the gap of something for the animals to fear, although as far as stereotypes go, she appears to be the fierce French general, with a hint of outback hunter. As a character, she is weak – nothing is explained about her, and she has no personality aside from obsession over the thrill of the chase. She comes over as a poor imitation of Peter Sellers' bumbling Inspector Clouseau.
Interestingly enough, this episode captures the spirit of movement and action instead of the stationary surroundings of the others. One of the things I always admired most about the Madagascar series was its animation style. It was just so vibrant and everything kind of popped! Even the television series employed this in some way. And the action sequences really showed off this strength. So, since this film tries to be more active, it meets the standards of its style and therefore can be critiqued as a children's film rather than as a childish movie with adult references that confuses the heck out of me and makes me lose my viewing platform.
And I know you might think, "Wait a second! The wit was childish and corny, the characters weren't developed any further (although in Escape 2 Africa they did an admirable job of this), the story was standard and predictable, and yet for some reason this is supposed to create a more enjoyable experience? How?"  The answer lies in the fact that this movie is aimed towards kids, rather than trying to create a movie that tries to appeal to both kids and adults.
Dreamworks Animation has been criticized for being crude and aiming more towards adult entertainment. They were trying to make an experience all could enjoy, a real party! However, as it gets more and more apparent that the 3D animation market is primarily for children, and no longer for adults taking wonderment in the technology, the company chose to start catering towards kids more. And they have been going through an awkward transition with that. Movies are being made that don't know what place they belong in.
To put it simply, I liked this film because it was straightforward enough for me to know what to expect and experience it accordingly. After all, you wouldn't go to see Sleeping Beauty and expect Black Swan.
Age Recommendation: This is a children's film. I wouldn't even give it a bump for crude humor. This is fine for all ages.
Final Verdict:  6/10. An improvement on the original, with fine animation and a clear story. Not bad.