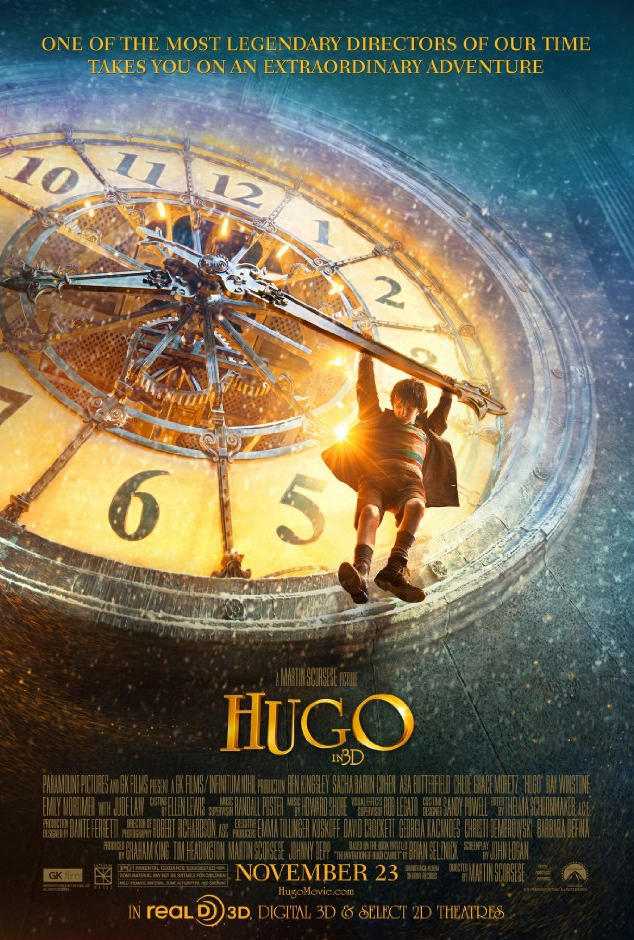 When I was much smaller, I had a really good school librarian. She worked hard on her library, and you could tell that she loved her job. She would always be ready to give out book recommendations to her students, young and old, and would oversee weekly trips to the library for all classes, as well as watching over it during breaks and after school. Sadly, the year after I left the school, she was laid off. But I hear she is happy with her new school, so I wish her well.
One of her best book recommendations was The Invention of Hugo Cabret, by Brian Selznick. This book became the basis of the Oscar-nominated Hugo, directed by Martin Scorsese. The film adaptation was actually the most Academy Award-nominated film of 2011, with a total of 11 including Best Picture and Best Director.
The story revolves around a boy named Hugo (Asa Butterfield) who lives alone in a Paris train station. After his father dies in a fire, he is taken in by his uncle to help maintain the station clocks. After his uncle disappears, Hugo makes his living by winding the clocks, and stealing food and parts to help him finish a secret project that he and his father had worked on. Threatened with being sent to the orphanage by the Station Inspector (Sacha Baron Cohen), he is caught stealing by shopkeeper (Ben Kingsley) and his daughter (Chloë Grace Moretz).
When I saw that this piece of my childhood was being made into a film, I was, as would be expected, scared to death. When a book is made into a movie, especially those made for children, the quality often suffers. An example is The Tale of Despereaux, which changed the book to suit a terrible movie, an absolutely horrendous decision.
What worried me the most was the prospect of losing the book's artwork. The book is famous because it is told almost entirely through a storyboard-like series of black & white sketches. What movie could replace such beautiful drawings?
Our librarian was equally worried. So much so that she called up the studio to request they make it in black & white. They disagreed. After all, who could make a successful movie like that?
However, the book's artwork seemed to greatly influence the cinematography. Although not in black & white, the film makes creative use of the camera and of CGI to create incredible landscape shots of scenes like the train station. This was absolutely wonderful for me, because instead of cringing while watching a movie based on a book, I actually felt nostalgic.
I won't give away what then happens, but the film is a tribute to French filmmaker Georges Méliès and his special effects. Speaking of special effects, the movie was filmed in 3D, which was surprisingly immersive.
Hugo's director is the legendary Martin Scorsese, who is known for usually making much darker and violent movies such as Goodfellas, Raging Bull, Shutter Island, Gangs of New York and The Departed – for which he won the Oscar for Best Director in 2007. He said that he was inspired to make Hugo by his 12 year-old daughter and his desire to see the world through "the imagination and Creativity of a child."
Age Recommendation: There's no bad language or graphic violence in the movie, so I would let kids of all ages see it, if they want to. Of course, do have them read the book, too, will you?
Final Verdict: The plot was a bit weak, and felt a little kiddish. The 3D visuals were excellent. But the movie faces a lot of competition at the Oscars this year. Still, I'm giving it 8/10, which isn't bad.
Hugo a received Oscar nominations for Best Picture, Best Director, Best Achievement in Art Direction, Cinematography, Costume Design, Film Editing, Adapted Screenplay, Sound Editing, Sound Mixing, Original Score, and of course, Visual Effects.