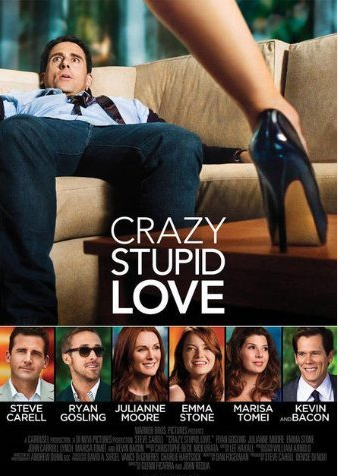 "Aww, a romance …  This movie will be so sappy." Wrong. It may be a romance, but it's a romantic comedy. It's no chick flick.
Crazy, Stupid, Love is a new movie starring Steve Carell (of TV's The Office), which tells a number of stories about a group of interacting people and their stories of the heart. From a recently divorced father (Carell) trying to get over his split, to his 13-year-old son with a crush on his babysitter who has a crush on the dad, this film displays all kinds of tales.
Now, I think there are three things that make this movie great. The first is the humor. I mean, let's face it, whether we love it or hate it, this movie appeals in the way it portrays love. To elaborate, this movie is not only romantic, but a good laugh for all.
Secondly, the acting. A terrific cast of Steve Carell, Julianne Moore, Emma Stone, Ryan Gosling, and Analeigh Tipton brings the top level of emotion and energy!  You can feel the depression, the desperation, the dedication!  This is one of those movies that you can certainly relate to!
And finally, the plot. The storyline follows what would seem like a predictable path, but luckily for the viewers, there are twists and surprises and all sorts of new elements thrown into the playing field. By the middle I felt unsure whether the movie would even have a happy ending!
Age Recommendation: People of all ages are portrayed here, so I would say that anyone over 11 would be okay for it.
Final Verdict: Smart, funny, and sweet. 9/10.