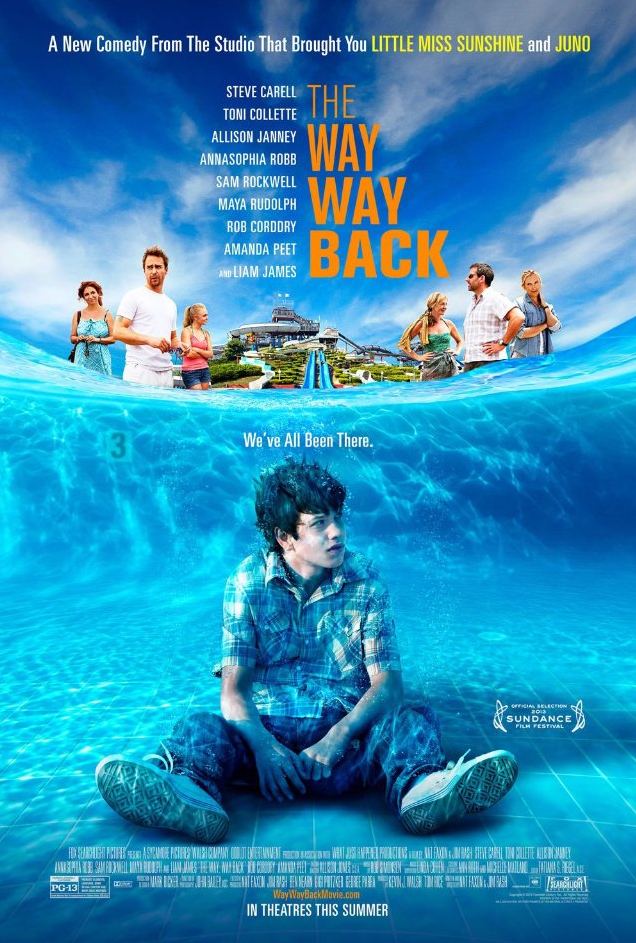 It's nice to see another Sundance movie out in theaters. They tend to be unique and endearing, and kind of push back against modern Hollywood tropes which we see so often on screen nowadays.
The thing about them is that, being independent, they tend to spread further over word of mouth than from any kind of marketing. Having said that, I would strongly urge all of you to get out there and support this film.
The Way, Way Back is a coming of age story about a socially inept boy named Duncan (Liam James) who spends the summer with his family at the summer home of his mother's verbally abusive boyfriend (Steve Carell). While there he spends most of his time aloof, avoiding his family and wandering the town, at least until he discovers a home at a local water park alongside its smooth talking manager, Owen (Sam Rockwell).
In addition, a summer romance between Duncan and quiet, rebellious neighbor Susanna (AnnaSophia Robb) serves as a sort of way to measure Duncan's social progress, and his abused, concerned mother Pam (Toni Collette) demonstrates some excellent and subtle emotional content.
This is, at heart, another summer vacation movie, but it makes up for its unoriginality with a kind of emotional endearment which shapes it into a pretty heartwarming story. It also develops quite smoothly, with Duncan slowly and visibly opening up as well as discovering some of the darker secrets behind the curtain.
While James creates a protagonist we can truly and emotionally get behind, Carell creates a kind of antagonist who feels cold and reproachable. Also impressive is the performance by Rockwell, who makes an excellent catalyst who really seems like he can carry the film. Meanwhile, Collette genuinely appears confused and fragile, while  Robb holds up as a snarky if not somewhat underdeveloped love interest.
Nat Faxon & Jim Rash, the writers/directors of The Way, Way Back won the Oscar for Best Adapted Screenplay in 2012 for their work on The Descendants. Fox Searchlight, the studio responsible for The Way, Way Back also released such works as Little Miss Sunshine (2006; also starring Carell and Collette) and Juno (2007). All of these films are renowned for both wit and emotional depth, and I feel that this movie, although perhaps less serious in nature, keeps up that legacy surprisingly well.
Age Recommendation: It's a sweet film, and I would mark it as 11+ or so in spite of a few adult themes (which pop up for brief moments) and a little cursing (although not enough to push it into an R-rating).
Final Verdict: A funny and heartwarming story which, although somewhat unoriginal, is an excellent watch. 8/10